In the fast moving world of digital print the possibilities for customising print just keep growing. To be a part of this direct mail revolution you need variable data software to take your source design and merge it with a database to create high quality personalised print. With many solutions costing several thousand pounds it can be quite an investment to take a step into modern direct mail but Infigo VDP changes that bringing powerful variable data customisation to everyone at an affordable price.
Targeted marketing is all about personalisation – ensuring a document is relevant and timely to each individual recipient. Brand and design agencies as well as professional printers are using Infigo Variable Data Program (VDP) to deliver comprehensive and personalised communications – changing dull marketing campaigns into powerful ones.

The Infigo VDP plugin and desktop application enables personalisation of both digital and printed documents making it suitable for multi-media campaigns from a single investment. Text, graphics and images can be changed from one document to the next producing a print-ready PDF that can be output by any RIP.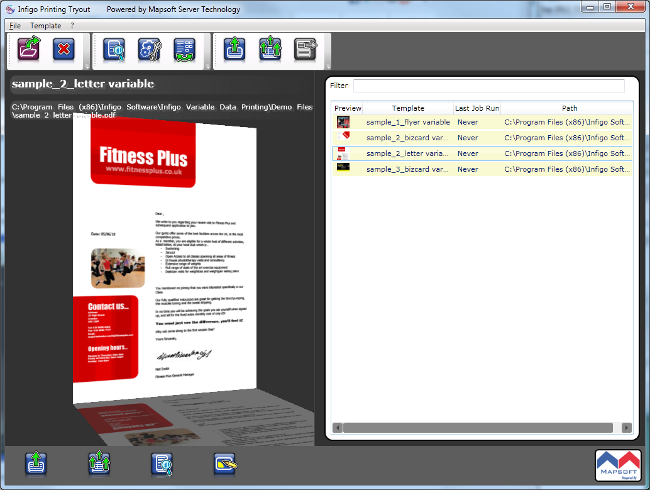 Powerful personalisation
Ease of document design and creation
Links to popular database formats and spreadsheets
Auto mapping of database fields
Queuing facility allows jobs to be run off peak
Test mode to preview the document before merging with database
Designer tools are available for both Mac and PC
All Infigo jobs can be output in Adobe PDF or the fast PPML format
Infigo Variable Data Printing features include
Text on Curve (with instant preview, editing in place)
Fully scriptable via Javascript
RGB, CMYK and Spot colour support as Global colours
Conversion of selected text to fields
Shadow support
Layer support
Text library support with CSV import
XML output/input + properties to define Form (e.g. for Web)
*Barcode support
PPML output support
Batch process with file size reduction
GUI with field positioning functions (alignment, spreading, size equalization)
Rich text support for text fields
Images with transparency (GIF, PNG, TIFF,PSD)
Field Masking (oval, rounded corners)
Text Variable support (global and local)
Photoshop Integration
*Funky Fonts
* These features are add on modules, that can be activated at an additional cost
Infigo Designer Acrobat Plug-in


Used for creating PDF templates for Infigo Desktop. The plug-in is available for the Mac and Windows and allows you to tag the contents of your PDF designs to become variable data fields that will change when you merge the design with your data source. As many copies can be run as needed at no additional cost.