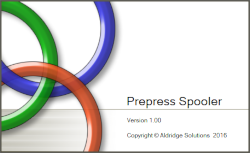 The Prepress Spooler Xpo Connector is an automatic workflow utility that picks up industry standard 1-bit TIFF files from any prepress RIP or workflow and converts them to Kodak TIFF files that will be accepted by the Kodak or Creo Xpo TIFF Shooter or Prinergy EVO TIFF downloader, for output to devices such as the Magnus and Trendsetter.
By default the Kodak/Creo TIFF output systems will refuse to output standard TIFF files unless you purchase the open TIFF import license from Kodak.
With Prepress Spooler Xpo Connector you don't need to purchase the option from Kodak. Prepress Spooler Xpo Connector is a simple and affordable utility to convert standard TIFF files to Creo style TIFF files allowing them to be output via Kodak/Creo TIFF shooters.
Xpo Connector gives you the flexibility to build any workflow that works for you from any mix of vendors, the changes to the TIFF file are relatively simple and that's reflected in the price of Prepress Spooler at just £99.
Please contact us for more information or for sample files to test with your Kodak or Creo CTP TIFF shooter.