We supply, support and train on the renowned PitStop Pro PDF fixing plugin for Acrobat.
Everyday you receive PDF files from customers that really aren't suitable for high quality print and fixing them can be difficult with traditional design tools. Yes you might bring the file into Illustrator to attempt to correct problems but it's far more efficient to edit PDFs directly in Acrobat using the powerful PitStop Professsional plugin to correct a huge array of issues automatically or interactively.

PitStop Pro provides you with an impressive array of editing tools:
Edit text
Change colours
Move, rotate or scale objects
Fix TrimBoxes
Add printers marks
and much more...
Fixing last-minute problems is now a matter of seconds not hours. PitStop Pro was developed specifically for use in a demanding, deadline-driven professional publishing environment. It won't let you down when a deadline looms and you have to fix things quickly and efficiently.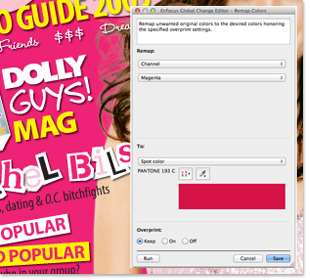 The Global Change panel allows you to apply document wide fixes in a few clicks. Search and replace colours , number pages, replace fonts and much more.
You're no doubt used to receiving what is supposed to be a two or five colour job but actually find there are many more colours defined. There's the Rubine Red CV you were expecting, but then also a Rubine Red CVU, a CVC and and extra My Red3 just to make things extra difficult for you! This isn't a problem with PitStop Pro, simply find and replace each of those colours using a Global Change or the PitStop Inspector tool.
These days almost everyone with a computer thinks they're a designer, the news letters, brochures, magazines, business stationary and more that you have to print is all too likely to be produced in Publisher or Word complete with it's RGB data and 3 or 4 colour blacks, no trimbox and no bleed! PitStop Pro gives you the tools to solve these problems quickly and easily.
If you receive PDF file from non-design agency customers you can't afford not to have PitStop in your collection of tools.