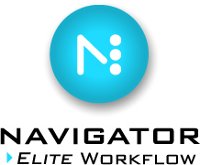 Navigator RIP Manager Workflow is a powerful scalable prepress PDF workflow solution for Harlequin RIPs from Xitron inc. including the latest comprehensive Navigator Elite option, the premier offering in the RIP Manager product line. Designed for prepress departments in need of no-nonsense, productive, cost-effective solutions, Navigator PDF Workflow combines operator convenience with all the tools necessary to efficiently drive your work to the pressroom. Easy-to-use, powerful, flexible, and compatible with more than 250 output devices, Navigator PDF Workflow is backed by an unprecedented level of product knowledge and support provided by Aldridge Solutions.

Navigator Harlequin Workflows help increase productivity, manage your work, and reduce costs. With an intuitive user interface, an operator is able to manage and control jobs from virtually any Mac or Windows prepress workstation. Specific workflow sequences can be designated and stored, greatly reducing the opportunity for error.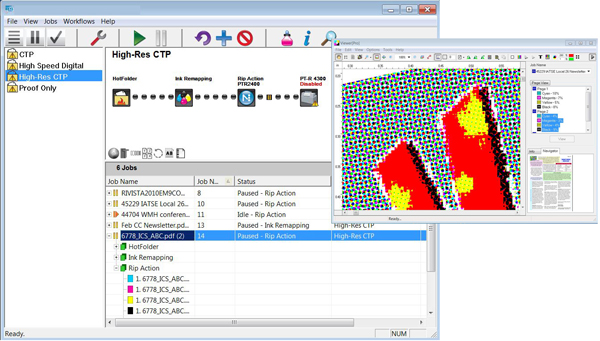 Navigator PDF Workflow options include PDF Creation and Preflighting, plus a powerful Ink Remapping tool, providing a quick and easy way to eliminate or consolidate plates within a job. Scriptable Hot Folders allow jobs to be sorted automatically by the workflow based on job size or other criteria.

Also available is Dynagram's powerful inpO2 imposition solution which RIP Manager is specially designed to integrate with. inpO2 allows you to increase your productivity with a powerful and scalable PDF imposition software, built right into the familiar environment of Adobe Acrobat. inpO2 provides the functions and features for commercial printers with PDF workflows (requires Adobe Acrobat 8 or higher.) RIP Manager's Imposition Integrator option provides greater control over imposed jobs within the workflow.
Navigator Workflow Features and Options
PDF Tools
PDF Creation, Preflight, Action Lists, Certified PDF


Client/Server Technology            
Includes two client licenses additional licenses can be purchased up to a maximum of ten


Multiple RIP Support
Includes support for one RIP additional RIP support can be purchased up to a maximum of four


RIP Technology
Harlequin RIP Server version 9


In-RIP Trapping
TrapPro in-RIP trapping option available


Imposition
Integrates with Dynagram Inp02 family of imposition plugins (option)


Colour Management
ICC based PDF colour management included with PDF Tools
In-RIP ColorPro ICC also available (option)


Input Formats
PostScript, PDF 1.7, EPS, Tiff 6.0, 1-Bit Tiff, XPS


Output Formats
Optional support for more than 250 different devices, 1-Bit Tiff, 8-Bit TIFF, Ink Key Files, CIP3, Raster PDF


Screening
AM Screening based on Harlequin Precision Screening
FM Screening based on Harlequin Dispersed Screening (option)


Proofing (option)
Device drivers and colour management available for Epson 4000, 4800, 4880,7600, 7800, 7880, 7900, 9600, 9800, 9880, 9900
If you use a Harlequin RIP, contact us today to arrange an online demonstration to see how RIP Manager Workflow can save you time and money.
For more information on Navigator Harlequin PDF Workflows please visit our sister site www.prepressuk.com