Power, affordable Colour Reflection Densitometer for use in the pressroom and prepress to verify solid ink weights and dot gain on press. Complete with the optional Plate Reading feature allowing dot measurements on high-contrast printing plates.

As we strive to meet demanding colour standards across all print processes having the tools to monitor and control colour output is essential. Press room densitometers and dot meters promote consistency both within a print run, checking a pull from the press every few hundred sheets, and across different print runs by measuring ink weights and dot gain from your colour bar.

Ihara instruments are produced to the highest quality standards in Japan utilising advanced technology to ensure superior performance and reliability.

Key features

Density
Density Difference
Dot Area
Dot Gain
Plate Dot*
Auto Function


RRP £1,700 Our Price £1,250 ex VAT
Easy to use and configure
Simply select the function desired from the intuitive control panel, no memorization or operation manual required as the hand-held meter provides clear and concise instructions across the large graphic LCD display in every measurement and detailed explanations for all measurement functions along with answers to frequently asked questions via the help system. The easy to read graphic LCD display allows the user to determine the precise configuration desired, including right or left handed view, two or three decimal precision and display options. It takes seconds to calibrate using the quick calibration function. Full calibration is also available. Auto-function allows the user to measure density and dot gain, interchangeably without manually switching modes.
Complete package
The brand-new densitometers are supplied fully packaged with hand-held meter, power supply, all manuals, calibration reference and carry case.
Specifications
FILTER RESPONSE
MEASURING GEOMETRY

0°/45° (ANSI PH2.17, ISO 5/4, DIN 16536)

MEASURING RANGE

Density 0.00D - 2.50D
Dot Area 0% - 100%

REPEATABILITY
ACCURACY
LIGHT SOURCE

Halogen Lamp, Approximately 2856°K

APERTURE DIAMETER
DETECTOR
DISPLAY
POWER SUPPLY
RECHARGE TIME
MEASUREMENTS PER CHARGE

Approximately 4,000 (Internal Testing)

WARM UP TIME
MEASURING TIME
OPERATING TEMPERATURE RANGE

41°F ~ 104°F (5°C ~ 40°C)

DIMENSIONS

2 3/4"W x 2"H x 8 1/4"L
(72mm x 50mm x 210mm)

WEIGHT
COMPUTER OUTPUT

Configurable RS-232C Serial Interface

ACCESSORIES

Operation Manual
Calibration Standard
AC Adapter (9V, 500mA, center-negative)
Carrying Case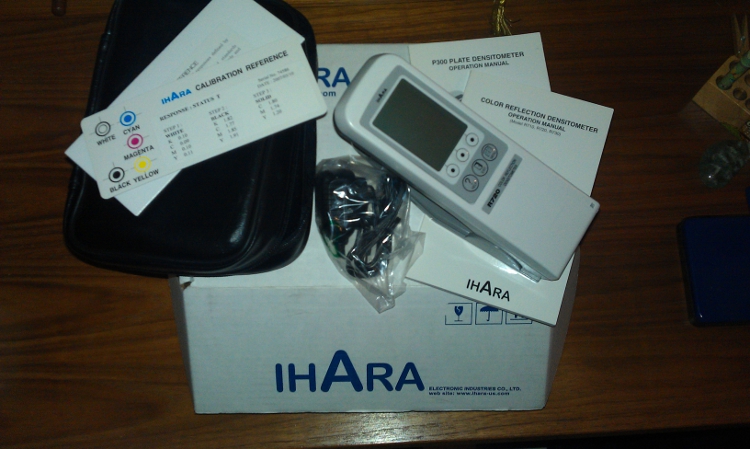 *Plate dot reading is done using industry standard formulas to translate measured density to dot value and works on high-contrast visible plates.