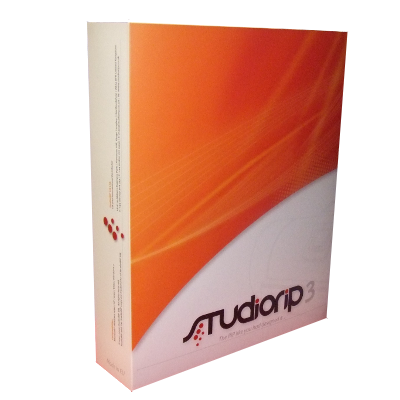 A powerful Postscript Language Level 3 and PDF 1.6 pre-press RIP and Workflow solution capable of driving a wide range of film or polyester imagesetters, Computer to Plate (CtP) systems, DI Presses, colour laser devices and inkjet printers at a surprisingly low price. StudioRIP's features are unrivalled, they include built-in imposition, trapping, raster and contone proofing, ink duct control, high quality screening, client based control, powerful on-screen preview and more.
StudioRIP offers many workflow tasks (processing, trapping, imposition, proofing, ink duct control and imaging) integrated into one application and controlled from one interface – a comfort and simplicity that cannot be matched by workflows that integrate several applications from various vendors.
StudioRIP's new SGSS screening offers corner-to-corner consistent rosettes, 4096 shades, smooth vignettes, pattern free tints and stable highlights and shadows utilising it's customisable hybrid screening technology, as well as flexo optimized hybrid screening, second order stochastic (FM) screening. It's also fast! It has well written, MMX-optimized algorithms for most of the time-consuming processes such as interpretation, screening, trapping, imposition or TIFF compression, offering a speed that is matched by very few rips on the market.

Features Summary
Friendly modern interface
StudioRIP's interface is easy to understand and simple to use.
High quality screening
Consistent rosettes, 4096 gray levels providing smooth vignettes, customizable hybrid screening as standard, second order stochastic (FM) screening.
Client based control
Clients of the StudioRIP workflow can be installed on the desktop of every designer or operator (Windows native, Mac via RDC). The server application has no visual interface (it is an icon in the system tray), the client application has full control over the StudioRIP through any network connection.
Simultaneous operation
Several designers or operators can work simultaneously with StudioRIP from their own clients without conflict.
Built-in imposition
User definable imposition styles, manual and automatic page arrangement, user definable pre-press marks, bleed and much more.
In-RIP trapping
Adobe-compliant raster based trapping technology including auto-choke of blacks, spot colour traps, special ink handling, narrowed/proportional traps, mitred traps, vector to image traps, feathered and anamorphic traps. Automatic, fast, stable and excellent quality.
Proofing
Contract quality colour managed proofs with either contone or halftone dot output can be produced with StudioRIP.
Enhanced on-screen preview
Any job can be previewed in separations, composite, imposition or media views using matched colours and continuous zoom.
Flexo friendly
Flexographic distortion compensation and flexo dot shapes and screening models built in. Flexo printers can work with StudioRIP simply and easily, without the need for extra programs.
Film saving
For those outputting film or other roll media, StudioRIP saves wasted material by automatically rotating and collecting separations or pages to minimize media wastage.
High speed
StudioRIP is one of the fastest rips available. Our proprietary MMX rendering technology offers excellent performance.
Multiple output devices
StudioRIP can drive multiple output devices simultaneously using it's Print Manager output system.