Aldridge Solutions are now reselling the high quality Ihara R720P pressroom densitometer and dot meter.
Aldridge Solutions have today released CardWriter v3.5, part of the PressProfiler solution for CIP3 ink key presetting on offset printing presses.
CardWriter is PressProfiler's interface to a wide range of Heidelberg presses with CPC consoles allowing cost effective ink key presetting of the press for faster make-ready and reduced wastage.
CardWriter v3.5 features an improved user interface as well as enhancements to file management and archiving.
For more information on PressProfiler please click here.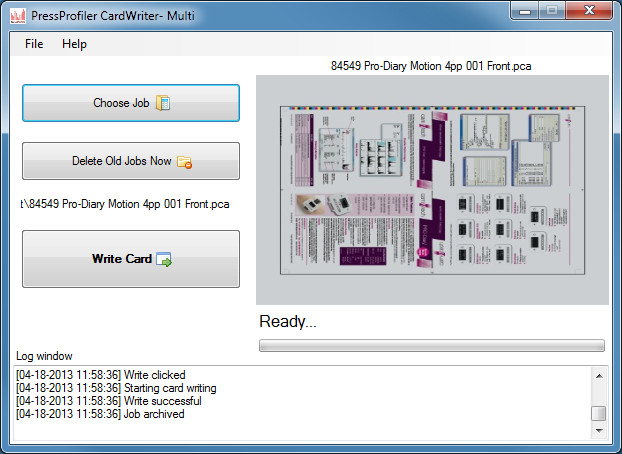 Today we've release the latest version of our interface to write CIP3 ink key presetting data to Heidelberg printing presses.
As well as performance and error reporting improvements CardWriter v3 now shows a preview image of the selected job to provide visual confirmation that the correct job has been selected for make-ready before writing it to the press.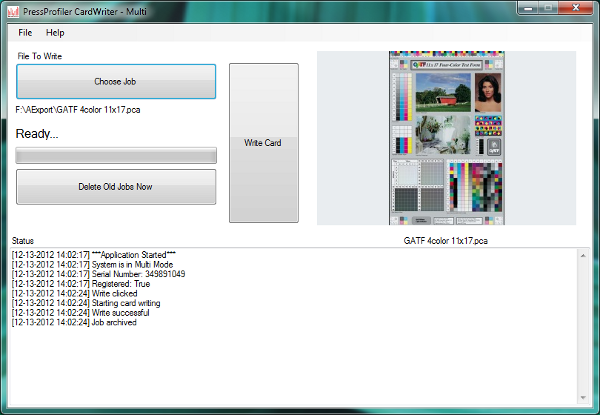 We've just released two new Harlequin RIP page features for you to freely use with any brand Harlequin RIP.
CopyInput.ps is an improved job capture page feature, it will take a copy of any incoming file that's arriving via published channel such as Appletalk, Socket or NTPrint inputs and place it into a folder inside the RIP's SW folder. From there you could use a Spool input to collect the file and process it again for a simple print once, RIP many workflow.
PrepsNaming(Prepsv5).ps is our latest invention to solve the problem of job sent to the RIP from Preps v5 not showing their section number and side identifiers making it difficult to know which is a front or back and in which sequence they should be run. Our page feature extracts this information from the incoming postscript stream or file created by Preps v5 and dynamically renames the Page Buffer for each section in the RIP as it's created. So you'll get those necessary "1A" "3B" etc identifier clearly visible in the RIP's queue and any resultant files exported from the RIP for that job.
See our Harlequin RIP Page Feature section to download these and other useful features free of charge.
If you need custom page feature developments or any problems solved with your pre-press systems, talk to the experts, contact Aldridge Solutions today.
We're pleased to announce we are now reselling the amazingly powerful Infigo VDP variable data printing software. The features on this for the price are truly amazing allowing anyone to create rich personalised direct mail from any PDF file with the kind of control you'd expect on a solution many times the price.
Click here for information on Infigo Variable Data Printing Software.